Metcalf Institute has selected 10 Fellows for the Institute's 25th Annual Science Workshop for Journalists. We had an incredibly competitive applicant pool, with over 200 applications for 10 Fellowship spots and 65 countries represented.
2023 Theme: Achieving an equitable transition to clean energy
The 2023 Annual Workshop for Journalists explores the natural, social, and engineering research guiding an equitable transition to clean energy. Fellows dive deep into issues such as the promise and challenge of using clean energy, the Inflation Reduction Act's opportunities and impact, community and governmental response to the clean energy transition, and more.
The Annual Workshop is designed to help Fellows gain new insights, sources and resources to aid their reporting, expand peer networks with journalists from around the globe, and produce accurate and contextualized reporting on globally relevant environmental issues. Metcalf Fellows will gain a solid foundation in the fundamentals of research practice, climate science, and adaptation measures from leading researchers and policy makers.
2023 Annual Workshop Fellows: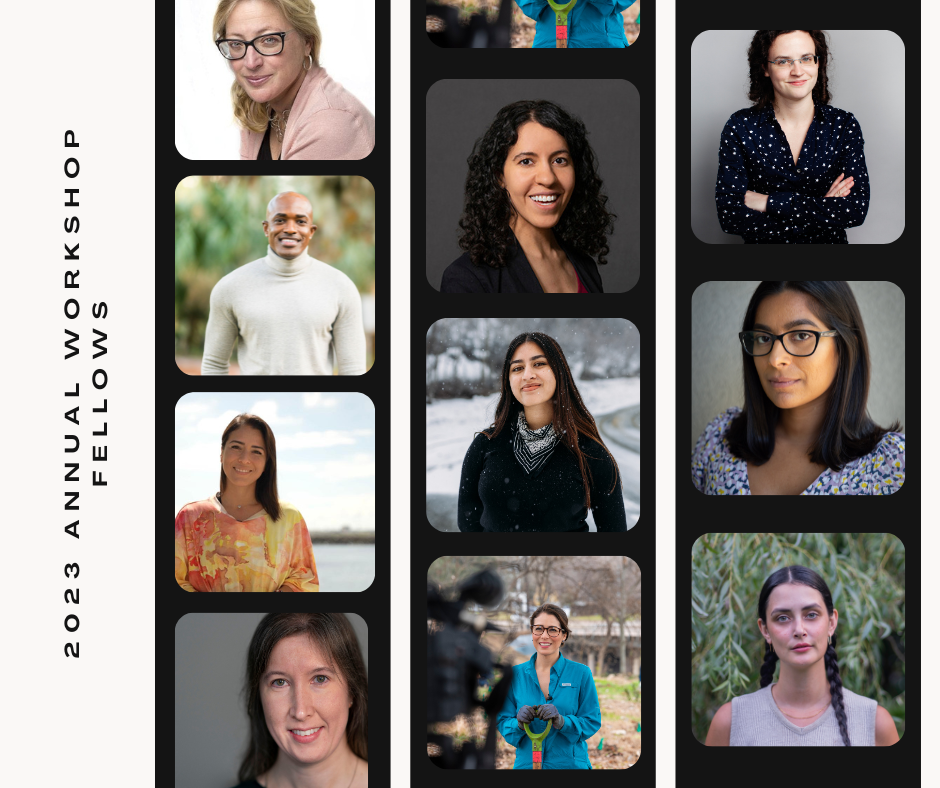 Ana Bueno, Environmental Reporter for Univision 45
Ambar Castillo, Sharon Begley Science Reporting Fellow, STAT
Marie French, Reporter, Politico
Kavitha George, Statewide Affairs Reporter, Alaska Public Media
Phoebe Wall Howard, Reporter, Detroit Free Press
Terry Jones, Reporter, Floodlight News
Cloe Logan, Reporter, Canada's National Observer
Jennifer McDermott, Reporter, Associated Press
Jeniffer Solis, Reporter, Nevada Current
Monica Samayoa, Climate Reporter, Oregon Public Broadcasting
This year, building on lessons learned over the past few years, the AWJ will be held in a hybrid format with in-person and virtual sessions. These virtual sessions will include training and networking opportunities, as well as the chance to learn from leading environmental journalists and scientists. Due to the high number of exceptional applicants and our desire to maximize the program's impact, we have decided to open attendance at our virtual sessions to our selected finalists, as well as the Fellows.
2023 Annual Workshop Finalists:
Katie Collins, Senior European Correspondent, CNET
Jesse Chase-Lubitz, Freelance Climate Journalist
Moira Donovan, Freelance Journalist
Alison Harford, Art Director/Staff Reporter, Moab Sun News
Marisa Mecke, Environmental Journalist, Gannett/USA Today
John Moritz, Reporter, Hearst Connecticut Media Group
Danny McArthur, Environmental Justice Reporter, Gulf States Newsroom
Caroline Preston, Deputy Managing Editor, The Hechinger Report
Krystina Shveda, Data Editor, CNN (Warner Brothers Discovery)
Lindsey Smith, Managing Editor, Desmog
Robert Smith, Staff Writer, EcoRI News
Ian Stevenson, Climate Change Reporter, Idaho Statesman
Miriam Wasser, Senior Reporter, WBUR
Amanda Williams, Special Projects Editor, 1A from NPR
Kale Williams, Environment Reporter, KGW
View Recent Annual Science Immersion Workshops:
2022 |2021 |2020 | 2019 |2018 |2017 |2016 |2015