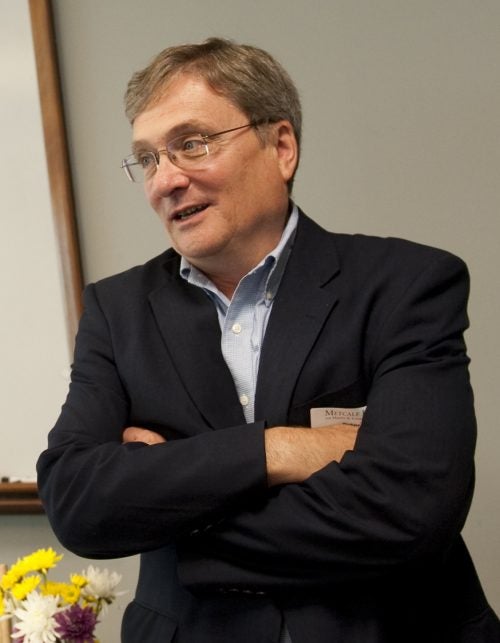 Honoring a Legacy
Metcalf Institute for Marine & Environmental Reporting established the Peter B. Lord Seminars on the Environment to honor the late Peter Lord's outstanding contributions to environmental journalism. Lord was the environment reporter at The Providence Journal for thirty years and served as Journalism Co-Director for Metcalf Institute since its founding in 1997 until his death in April 2012. He was widely respected as a teacher, mentor, and standard-bearer for excellence in environmental journalism in Rhode Island and beyond.

Helping New Englanders Engage with Locally Important Environmental Issues
Originally designed to serve journalists in southern New England with the goal of increasing regional news coverage of important environmental concerns, the series was expanded in 2013 to benefit a wider public audience. Peter Lord Seminars are now open to the public, to provide a deeper understanding of regionally significant environmental issues and introduce a wide variety of perspectives on each topic, including scientists and stakeholders from regulatory agencies, environmental advocates, community groups, and business interests. The seminars, which are all on the record, give attendees the information and contacts to make sense of timely environmental challenges and solutions.
Past Programs
Sea Change: How Climate Change is Shifting the Ecosystem

New England's Aquaculture Industry
Coastal shellfish farming is a growing industry in southern New England, generating an estimated $40 million in annual revenue in Rhode Island, Massachusetts and Connecticut. Experts will explore the environmental, economic, policy issues, and conflicts surrounding this growing industry.
How will Environmental Policy Decisions Fuel the New England Economy
As construction of wind farms off the coast of Rhode Island positions the Ocean State as a national leader in the creation of offshore energy, it renews discussions about opportunities, challenges, and threats posed by environmental change. Experts explored these issues at a public lecture and panel discussion at the Providence Journal.
Predicting and Responding to Extreme Weather Events
The year 2013 marked the 75th anniversary of the Hurricane of 1938, one of the most destructive storms to slam into the New England coast. The region has seen its share of extreme weather in recent years, primarily in the form of major storms that have caused extensive flooding and property damage. Participants at this event discussed hurricane forecasts, storm preparedness, emergency response, public health implications, and the effects of climate change on these weather events.
Making Sense of Beach Closures, Shell Fishing Bans, Water Advisories & More
With all the resources dedicated to water quality programs, many wonder, why is my beach still closed? This program explored the state of the Narragansett Bay watershed, with a focus on the current and emerging threats to water quality and availability in Southern New England, as well as perspectives on how these threats affect the regional economy.
Innovations in Renewable Energy
Southern New England is poised to be a national leader in developing offshore wind energy, but what are the next steps in terms of process, improving security of the region's overloaded power grids, and balancing environmental concerns with power needs and economic realities? Can waves, tides, and currents from the ocean help us meet our electricity needs?
Adapting to Climate Change: Planning for an Uncertain and Expensive Future
Scientific projections of rapid shifts in temperature, precipitation, and sea levels from climate change will require responses from policy makers at all levels of government. What might these adaptation policies require, and what will they cost?
Climate Change Impacts in Southern New England
How is climate change affecting or likely to affect coastal infrastructure, public health, and economically significant natural resources?
Participants are required to register for each seminar via an online registration form.
Past Peter B. Lord Seminars on the Environment have been supported fully or in part by The Providence Journal, The Rhode Island Foundation, The Providence Journal Fund and Henry and Jan Rines Fund at The Rhode Island Foundation, Rhode Island Sea Grant, and the URI Coastal Institute.